Revives and Revitalizes
Regular price
Sale price
34,80 EUR
Unit price
per
Sale
Sold out
This organic dry oil is rich in organic essential oils, especially of Immortelle and Myrtle.
It is a multifonction skincare product, it is conceived to be used for your face and body as well as your hair. It softly hydrates and revives your skin without leaving it greasy
On your face and body you will feel the lifting and tightening effect of Myrtle. As well as the soothing and reviving virtues of Immortelle. These two plants work in synergy as they grow next to each other in nature. Together they bring comfort and wellness to your skin.
For your hair it can be used as a mask to protect and nourishes them. It will repair the damaged hair.
Ideal after a shower or a bath to hydrate your skin or hair. After sun exposure it will revive and revitalize your damaged skin and hair. Great for sore or mature skin. Apply oil with vigorous movement to enhance its benefits.
Immortelle and Myrtle both have anti-aging properties. This dry oil stimulates blood flow and regenerates your skin and hair. 

The basis of this oil is a macerate of Immortelle and Myrtle. Flowers of Helichrysum and twigs and leaves of Myrtle macerated for some months in a neutral oil under the sun to extract their properties. This process allows us to extract different properties from the essential oil. We then enriched this macerate with many organic essential oils.  We use a similar process for our Immortelle Oil. As a result we obtain a dry oil rich in antioxidant and polyphenol will all the properties of Immortelle and Myrtle from Corsica. Its floral and delicate fragrance will delight you.
Disclaimer: No solar filter, photosensitive, not recommended for pregnant women
Volume: 50ml or 100ml in a glass bottle with a spray
Ingredients

SESAMUM INDICUM SEED OIL*, HELICHRYSUM ITALICUM FLOWER EXTRACT*, HELICHRYSUM ITALICUM FLOWER OIL*, MYRTUS COMMUNIS LEAF OIL*, CITRUS RETICULA BLANCO*, PELARGONIUM GRAVEOLENS OIL*, MENTHA PIPERITA OIL*, ROSMARINUS LEAF OIL*, LIMONENE, LINALOL, GERANIOL, CITRONELLOL, EUGENOL.
*Ingredients from organic farming
How to use

Hair, face or body. After shower or bath, on sore or mature skin or as a hair mask
Shipping

Shipped with tracking number, the same or first work day, after the order is paid
Return policy

Return the product at MARDYS GARDEN, Route de l'aéroport, 20260 Calvi, France. Refunds will be emitted after the product has been received
Share
View full details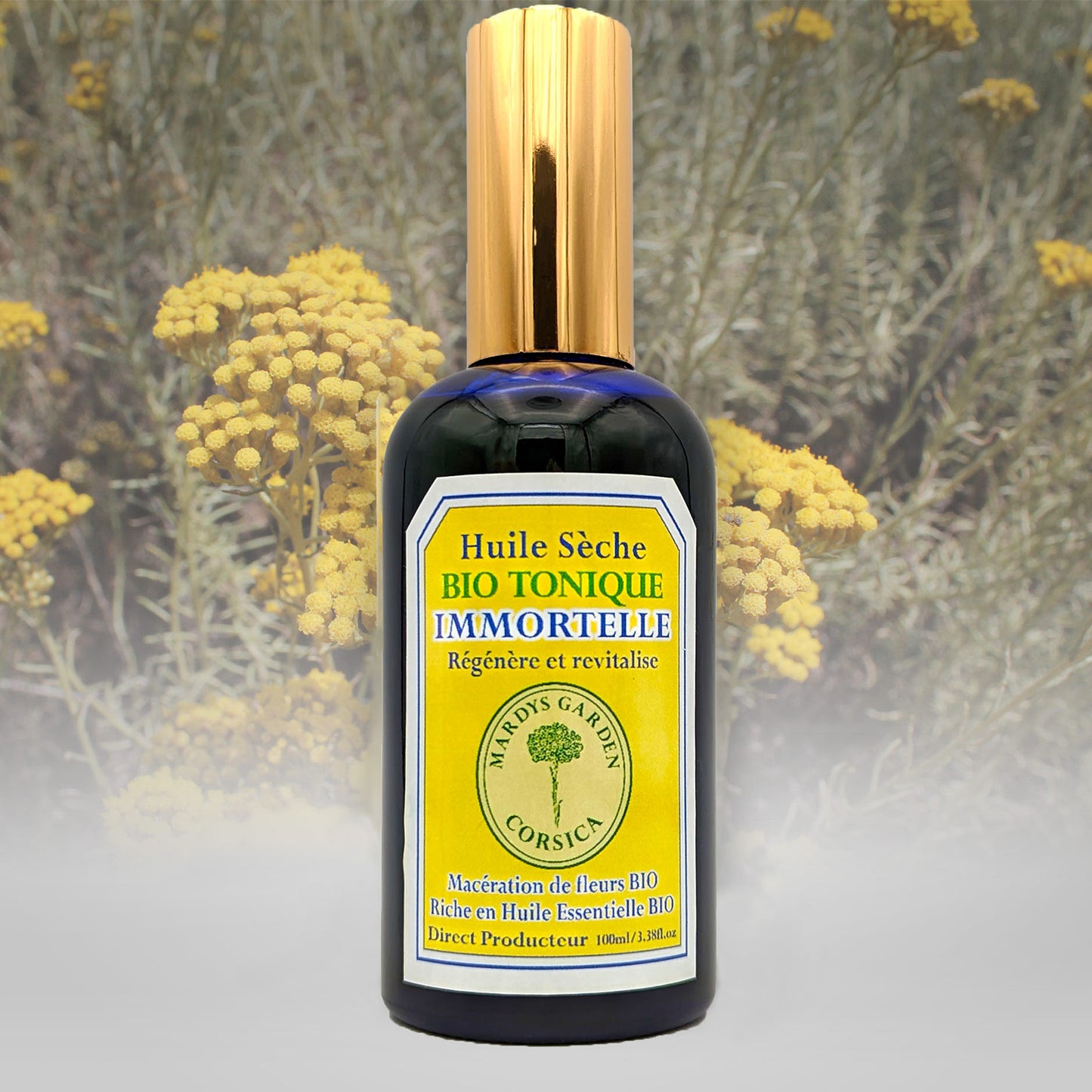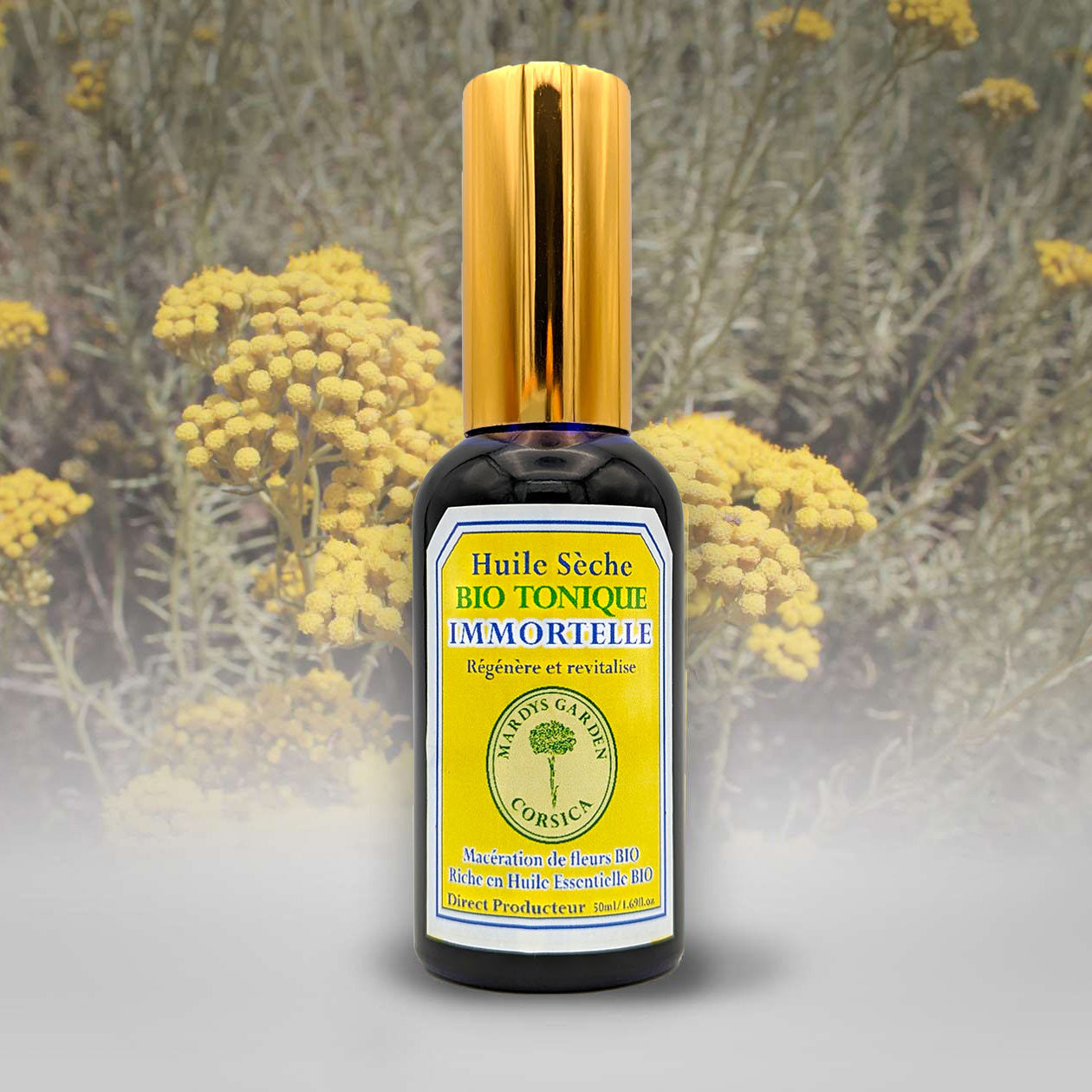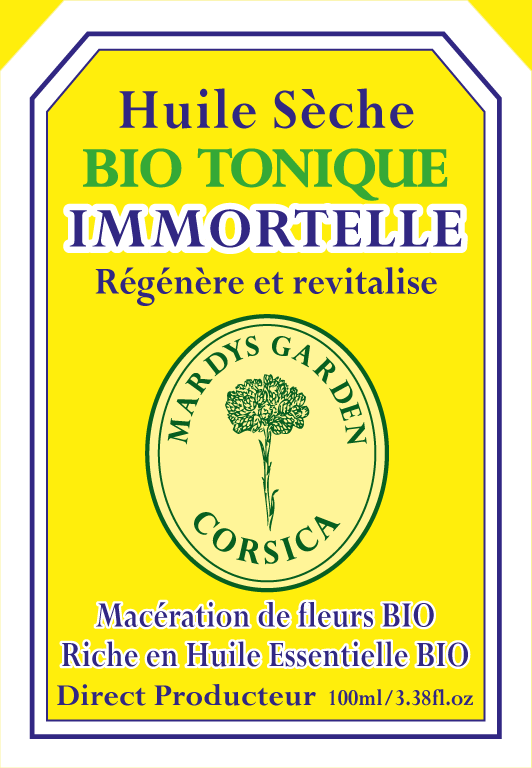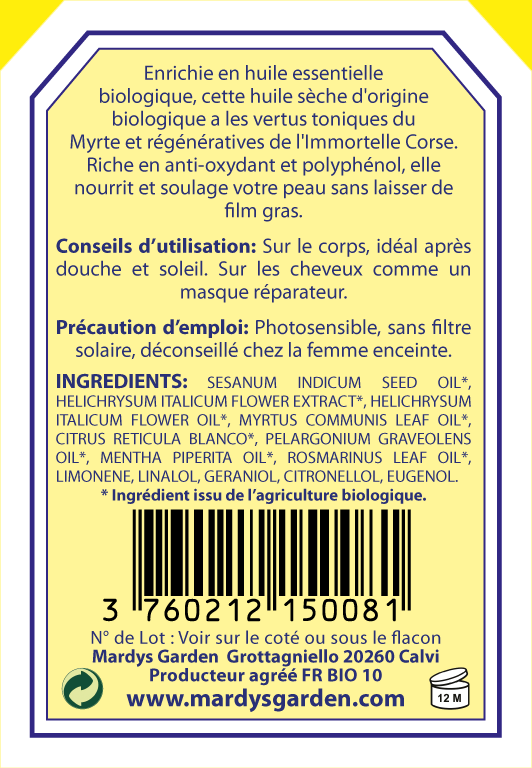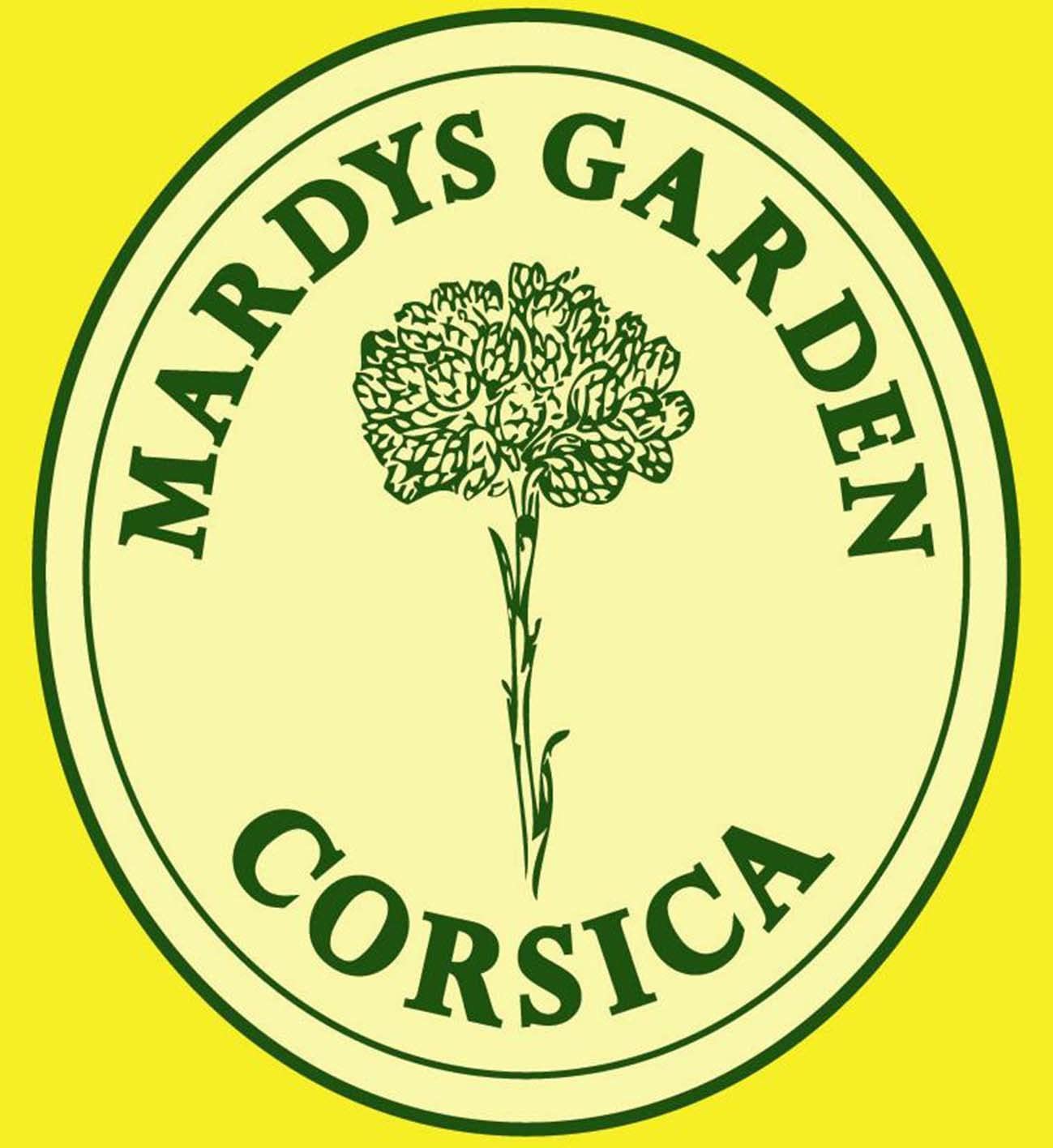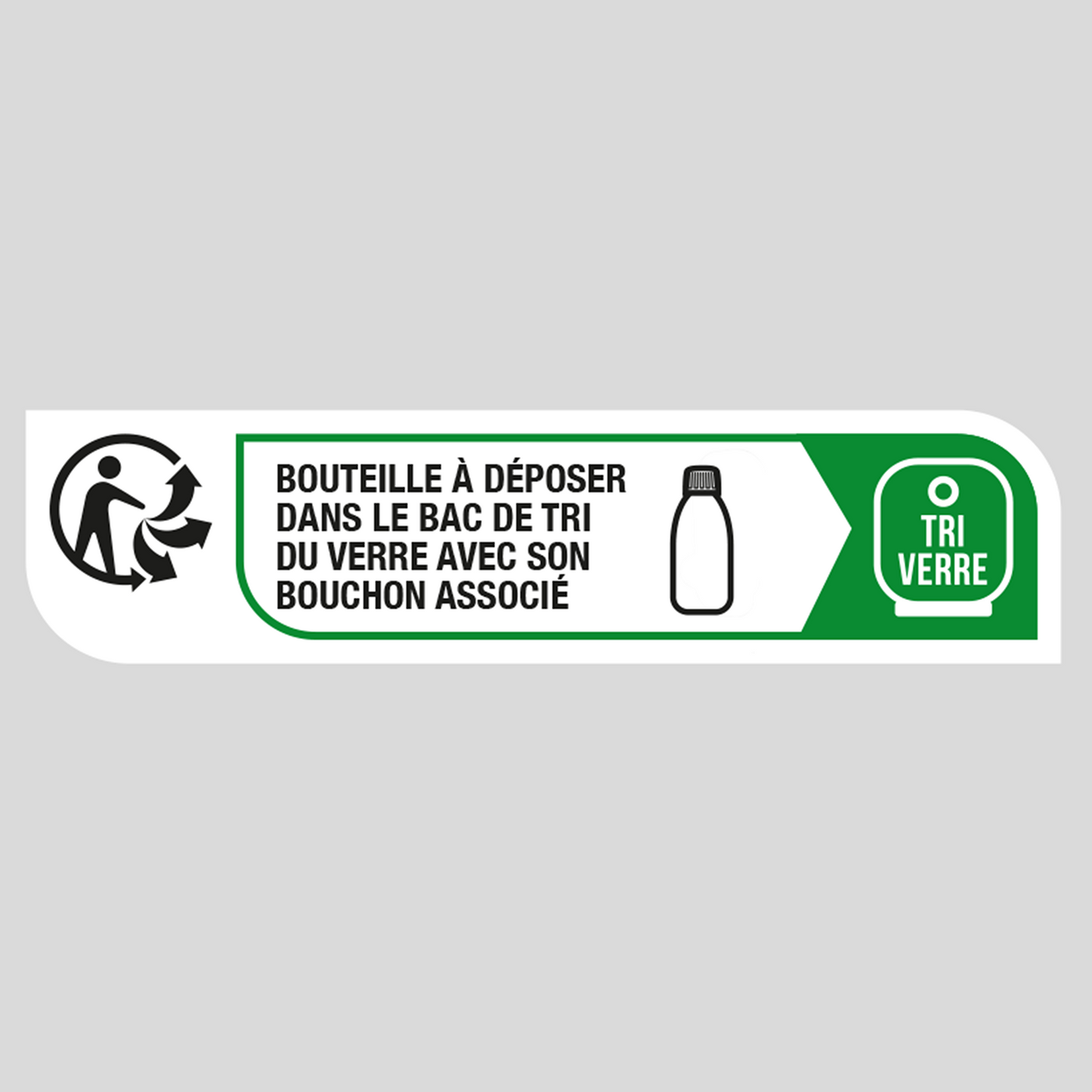 Straight from producer
All our products are made by us, on our local farm in Corsica. All orders are shipped from there, without intermediaries. We start from the seed up to the final product. We focus on producing quality products. Each are concentrated with active ingredients to best ensure its effect.
Organic

Our organic farm is certified each year by Bureau Veritas. Our plants grow naturally in the best possible condition. We harvest them manually when they are ready, respecting their cycle.

Immortelle

Helichrysum Italicum, an amazing shrub. It grows wild in Corsica, where its effect are the strongest. Our lands are near the sea and under strong sun exposure, the best environment possible for Immortelle

Natural cosmetics

We craft homemade natural cosmetics from our production. Immortelle has multiple properties, making it a great beauty product for skincare. We add it with other organic ingredients that act in synergy to enhance its benefits